About Us
"SHARE WITH US THE PASSION OF GROWING."
PARKERS PLACE NURSERY IS WHOLESALE ONLY. OUR PLANTS ARE AVAILABLE THROUGH INDEPENDENT NURSERIES AND MOST QUEENSLAND BUNNINGS STORES. WE ARE UNABLE TO SEND PLANTS MAIL ORDER.

Parkers Place wholesale plant nursery is a second generation family nursery.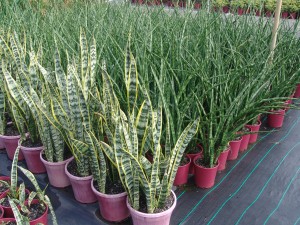 Ray & Diane bought the nursery known as Dunstans Nursery from Ken Dunstan in 1988. Ken was responsible for the development and promotion of the Tibouchinas Alstonville, Kathleen, Noeline and Jules as well as the award winning Callistemon Little John.
Rebranding it as Parkers Place Nursery the business expanded from the original site in the village of Wollongbar to its present site on Lindendale Road Wollongbar.
This expansion brought our son Damien into the nursery as the production manager. Damien now manages the production and sales, keeping up with the ever expanding market and bringing new initiatives into the nursery. Damien can be contacted on 02 66280485 or by email for enquiries.
In the manner of a true "plantsman" Ray has always loved the challenge of finding and trialling new and unusual plants. His love of plants has taken him on overseas trips where he can indulge his passion of collecting. The nursery stock gardens are testament to this as it contains many plants not usually grown in this area. Plants that pass the "garden test" are then often put into production.
Being an inaugural member of the Renaissance Herbs group saw a progression into herbs and Romantic Plants. This section of the nursery  keeps growing as the range of plants in these collections expands to meet the market.
The future is to put many of the plants grown in the gardens into the Parkers Place Nursery range giving us a specialised range of these more unusual plants.
Our commitment is to growing the business to meet the demand of our customers. "It won't be done overnight but every day you will find something new and something better".
Mission Statement:
Parkers Place Nurse
ry, since its inception in 1988 has been an innovative leader in the Nursery Industry in NSW & Queensland. We are committed to supplying the retail industry with a selection of high quality plants. As a second generation family business our passion for plants and gardens shows in the care and attention of our staff. We value above all our long term customer relations and acknowledge the future of our business is a partnership based on quality.